Peer Mentor Program
FASTrack Peer Mentors serve as role models and co-instructors in the EDHE 105 Freshman Experience courses in the fall semester. Mentors guide FASTrack students through the challenges they face in their first year, while helping them become familiar with the University of Mississippi campus, student services, and academic resources.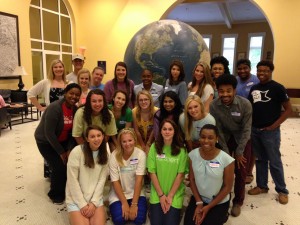 During the fall semester, the FASTrack Peer Mentors are assigned to sections of EDHE 105, becoming student leaders to 15-20 first-year students in the program. Throughout the semester, mentors are expected to attend their EDHE section every week. They assist the instructor with lessons and share their own student perspective with the class.
Mentors are encouraged to build professional and supportive personal relationships with their mentees. Beyond working with their mentees in the classroom, peer mentors are asked to be available to their students as friends, guides and role models. Many of our FASTrack mentors meet with their students outside of the classroom, whether that means walking to class with their mentees or just getting a cup of coffee every once in awhile.
To build these relationships, mentors also help coordinate various social activities throughout the semester helping to further build the FASTrack community. In previous years we have held game nights, Halloween parties and other various events that provide our students the chance to socialize beyond the classroom, developing the sense of belonging and community.
Peer mentors are a large part of what makes FASTrack a successful program. Our peer mentors provide the ground level support that help make the first-year transition a positive experience.