"What could be better than a program that welcomes, challenges, and supports student success? FASTrack's targeted approach turns first-year students into seniors." — Dr. Randy Swing, Executive Director of the Association for Institutional Research
Welcome, and thank you for your interest in FASTrack. Please read the information on this website and consider applying today!
Foundations for Academic Success Track (FASTrack) is a first-year program, designed to help first-year students transition from high school to college in a supportive environment. Approximately 400 FASTrack students per year receive academic support in the form of smaller and enhanced classes, as well as individualized and encouraging academic advising.
Students are divided into groups called cohorts (of 20 students or less). In those cohorts, students take three classes together during the fall semester and three more during the spring, building a sense of community and peer support. Students in FASTrack get to know each other quickly and often study together. Instructors track and report individual student progress so that struggling students can be identified and assistance can be offered. Extra academic support, enhanced advising, and intensive mentoring are made available to all FASTrack students.
The Courses:
Fall 2013

Spring 2014

Writing 101 (Composition)

Writing 102 (Composition)

EDHE 105 (Academic Skills)

BISC 102 (Survey of Human Biology)

Psy 201 (General Psychology)

   or

Soc 101 (Introductory Sociology)

Math 121 (College Algebra)
WRIT 101 – First-Year Writing I
Prepares students to write in college by focusing on writing as process for a variety of contexts and audiences. Develops information literacy, awareness of conventions, skills of inquiry, exploration, and argumentation. Includes multimodal writing presented in ePortfolios. A student may not receive credit for both Writ 100 and Writ 101.
EDHE 105 – Freshman Year Experience
Designed to help first-year students adjust to the university, develop a better understanding of the learning process, acquire essential survival skills, and begin the major/career exploration process. The course also introduces students to the mission, values, and constituencies of a comprehensive public university, and to ethical and social concerns affecting its functioning.
Psy 201 – General Psychology
Introduction: individual development, motivation, emotion, motor function, sensory and neural functions, intelligence, learning, perceiving, thinking, social behavior, and personality.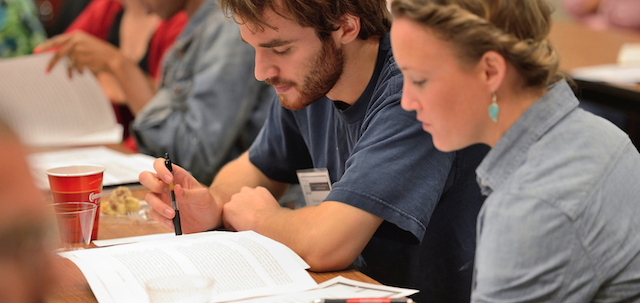 Soc 101 – Introductory Sociology
Concepts and methods necessary for studying society
Spring Semester
WRIT 102 – First-Year Writing II
Writing processes, skills on inquiry, exploration, and argumentation, with special emphasis on research, information literacy, and writing for a variety of contexts and audiences. Includes multimodal writing presented in ePortfolios.
BISC 102 – Inquiry Into Life Human Biology
A survey course intended for nonbiology majors, introducing basic principles and emphasizing the function of the human body, including diseases, cellular process, respiration, muscular system, reproduction, development, immunity, and inheritance. Will not count for credit if Bisc 160 is counted. Applies to the science requirement of the core curriculum. Associated laboratory is Bisc 103.
Math 121 – College Algebra
(Please note that while encouraged to take each of these classes with their cohort, it is not mandatory that FASTrack students take all of these courses due to potential scheduling problems or previously received credit.)    
The Community:
In conjunction with the academic support FASTrack provides, we also strive to build a community for our students.
 "With FASTrack, the most helpful thing was getting to know the students I had all my classes with. It made it easier to get together study groups and helped having the support of other students who were going through the same things."
FASTrack LLC
Many of our students also choose to live in the FASTrack Living Learning Community. Students in the FASTrack live on the third and fourth floors in Ridge South. The FASTrack LLC requires no additional housing application. Not all members of FASTrack will live in the LLC, but any student who has been admitted to FASTrack will be eligible. FASTrack students will be the only members admitted into this community. Again, FASTrack students are not required to live in this community. The LLC portion of FASTrack is optional. The LLC spaces will be first-come, first-served, and, once all spaces in the community have been filled, students in the program will have to choose alternative housing. For more information about the FASTrack LLC please visit http://www.olemiss.edu/depts/stu_housing/FASTrackLLC.html