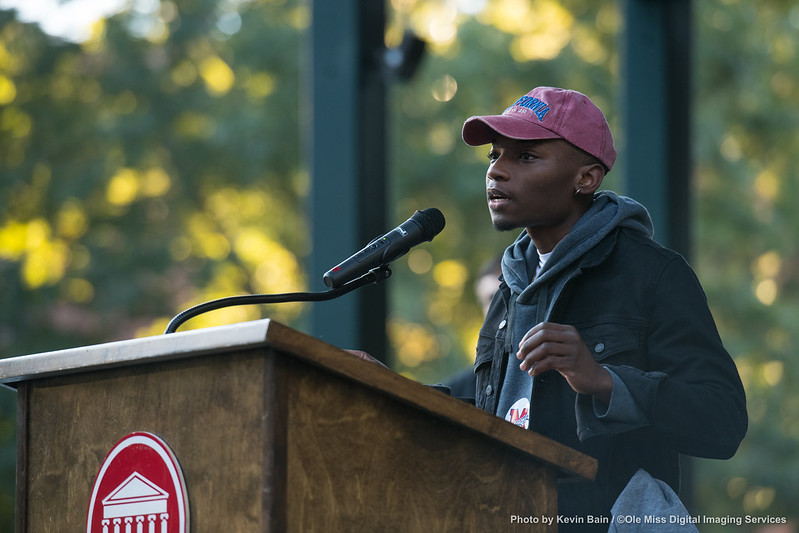 FASTrack Peer Coordinator, Curtis Hills, speaking at 2019 M Partner day in New Albany, MS.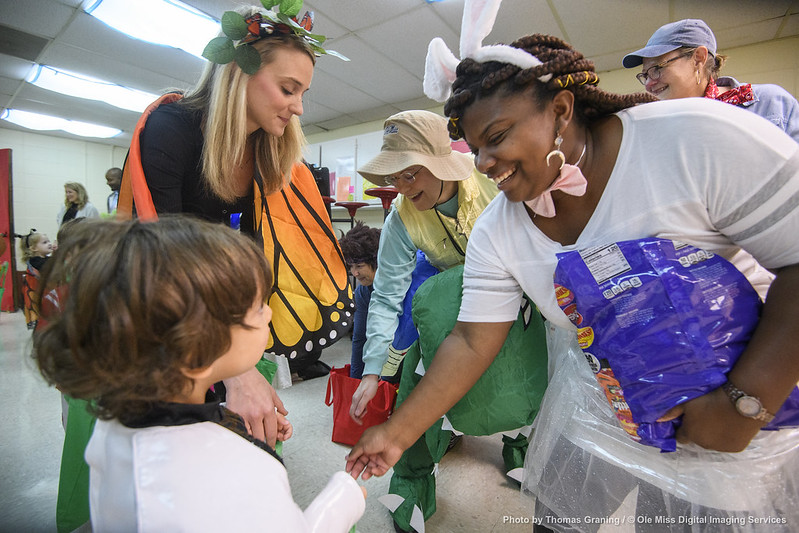 FASTrack GA, Nyterica Edget, handing out candy to Willie Price students on Halloween!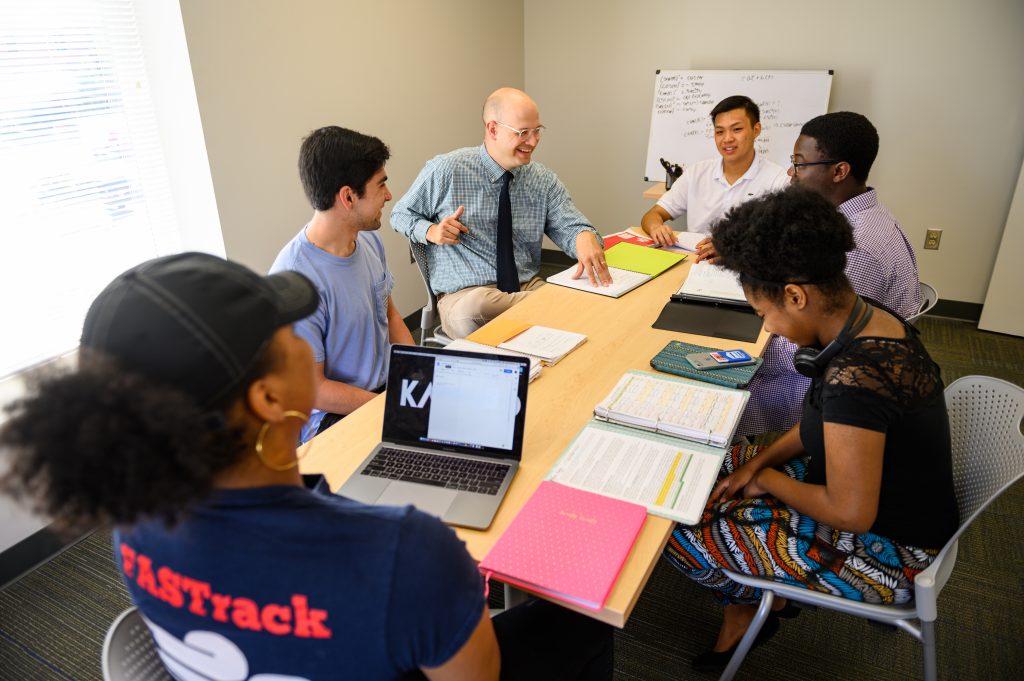 Grove scholars & FASTrack students discuss class topics with Academic Mentor, Gray Flora.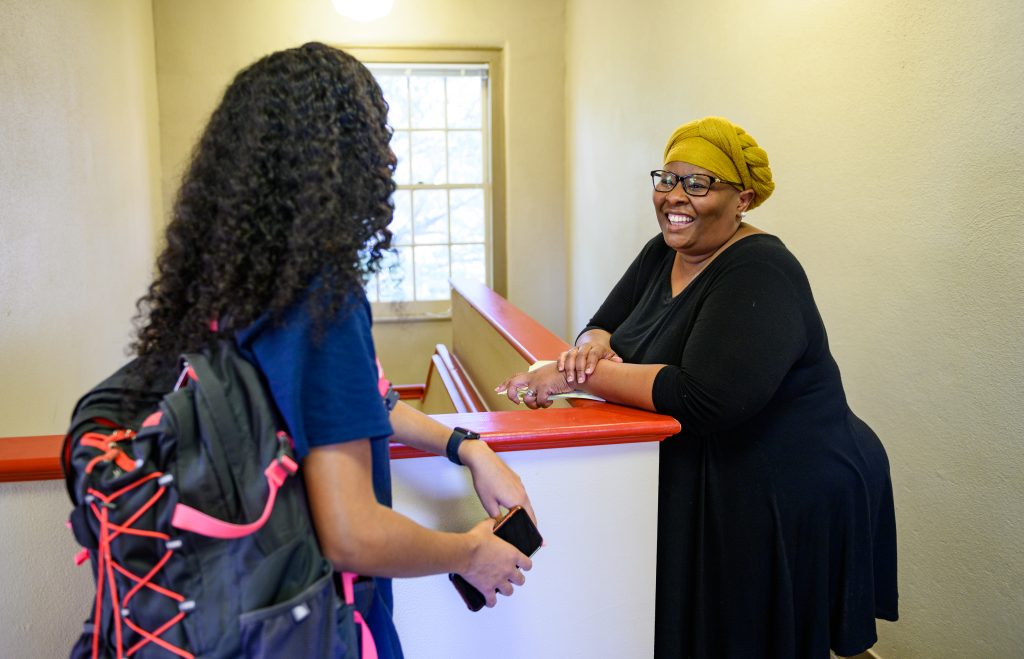 FASTrack Advisor, Jackie Certion, stopping to speak with student in hallway prior to class.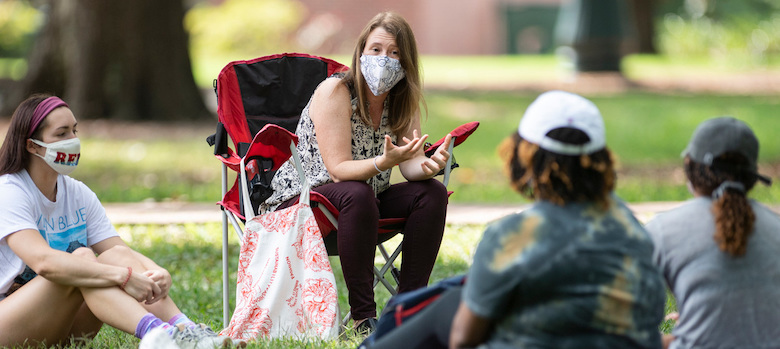 FASTrack Peer Leader Jordan Jones (left) and Instructor Wendy Pfrenger talk with FASTrack EDHE 105 students.

Foundations of Academic Success Track (FASTrack)
---
FASTrack Learning Community provides a strong foundation for academic success by easing student transitions into The University of Mississippi. We help first-year students build campus connections through linked classes and one-on-one mentoring with additional options such as our living-learning residence hall, co-curricular programs, and enhanced student leadership opportunities.
Announcements
---
Dear FASTrack Community,
We hope that you and your families are well during this difficult time. We know that you are facing difficult decisions with regard to coming to college and starting your freshman year. Please know that the FASTrack staff is fully supportive of whatever decisions you need to make for yourself, for your families and for your academic career given the current situation. We do want you to know, though, that we are here for you! The academic mentors and peer leaders will be here for you to help you navigate this new way of learning and living. We will be actively engaging you safely in classes and programs, will be available to meet with you both virtually and in person and we will help you assimilate into our community. The University of Mississippi takes its commitment to you very seriously. The faculty and staff are working tirelessly to develop teaching modalities and educational opportunities to keep you on track to graduate in four years. We should have more definitive information regarding class formats on July 21, 2020. The link below is to a video done by Provost Noel Wilkin, the Chief Academic Officer for the University. The video provides a lot of good information regarding the parameters and protocols that will be required. He also gives an explanation of the different course modalities. As we navigate this new and different world together, we want you to know that you will be supported every step of the way!
---
COVID-19 Information
FASTrack is following instructions from the University of Mississippi regarding COVID-19. We are working to send out additional information to our FASTrack community. Please continue to monitor your student email account for further details. You can also view COVID-19 Update provided by the Office of the Provost for more updates. Please remember, all previously scheduled FASTrack programs, events, and interviews are postponed until further notice.
---
FASTrack Applications
FASTrack's Fall 2020 applications are officially open!
We still have limited space available. The priority application deadline was April 30th.
Click the link below to learn more!